One of my all-time favorite movies is Rounders. Matt Damon and Ed Norton talking all smooth and playing poker in cool-looking clubs with John Malkovich spouting repeatable lines in… sort of a Russian accent. Plus, there's a great Counting Crows song during the credits that I've never been able to find anywhere. Anyway, Damon's Mike McD is the relatively good boy, while Norton's Worm is the slimier friend.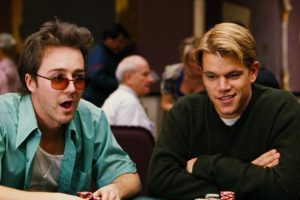 After Worm gets them beat up with all their cash stolen for having been caught cheating, the gloves come off in an overdue shouting match between the old friends.
Mike McDermott: What the F*** were you thinking?
Worm: I was trying to give us an edge… …I don't think like that.
Mike McD: No, you don't THINK!
Worm: No, I don't think like YOU! You always think you can beat the game straight up. That's not me. I told you, I'm always gonna look for that edge. Always.
As much as Mike is the better role model, if you're picking from the two gambling addicts, in fantasy basketball you want to be like Worm. Even if you tried, you can't cheat in most leagues, but you want to be the one thinking differently, finding your edge. Last week, I mentioned ways to make your league more engaging. From here on out, I'll give you ways to get an edge in your league by using the numbers to your advantage. These next two weeks leading up to the season, we'll talk drafting.
Please, blog, may I have some more?