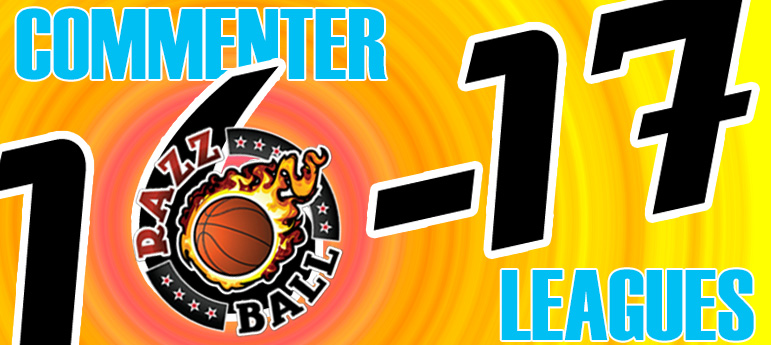 Say whaaaaaa?! It's draft season?! Hell yeah, let's start some early-drafting for hoops, who ISN'T bored of fantasy football already?! I keed, I keed, but fans of the Rams might be ready for a new sport already, amiright?!
If you're jonesing for some early fantasy basketball action in the dopiest of dope fan leagues around, it's time to join us an play in the 2016-17 Razzball Basketball RCL Leagues! 100% free, fun prizes, shame me in a Youtube video, and take a stab at joining the illustrious few who have made it into the RCL Hall of Fame. Is it narcissistic that I want to make it into my own site's Hall of Fame?! Man, it would be awesome to have my name on there!
With that fantasy basketball fever enveloping us all, start up your very own new RCL league and set an early draft time (takes 2 minutes tops to launch a league) and challenge the masses for the overall RCL title. But if you only have 5 seconds, that's fine too! Tons of leagues are open, so clickity click the link above and join an open league. Start up as many teams as you'd like to make a run at RCL infamy!
Enough tomfoolery! Wait, I mean JBfoolery, my name isn't Tom! It's time to start looking at how RCL drafts are playing out! We just had our first RCL draft last night in the inaugural RCL of the season. Here's how my team came together:
Please, blog, may I have some more?