Here's the matchup grid updated prior to the 1030 ET time games last night.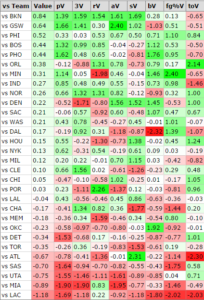 I don't want to go in depth on this today as I'd like to spend some time talking about a specific player below.  The next in-depth discussion will be in a couple of weeks when we have a nice full month of data.  Just wanted to point out that GSW remains near the top of teams to target, albeit they seem to have tightened it up a bit on the rebounding category compared to last week.
Some names to target for the rest of the week:
Please, blog, may I have some more?