…The Sixers don't have a Clue, that's for sure!
On a night of comebacks where we saw the Spurs come back from their largest deficit at home to beat the Cavs, we also saw the Bulls down more than 20 in the 2nd quarter and 16 at half come back and just obliterate the Sixers in the 2nd half and overtime by unleashing the Godzilla.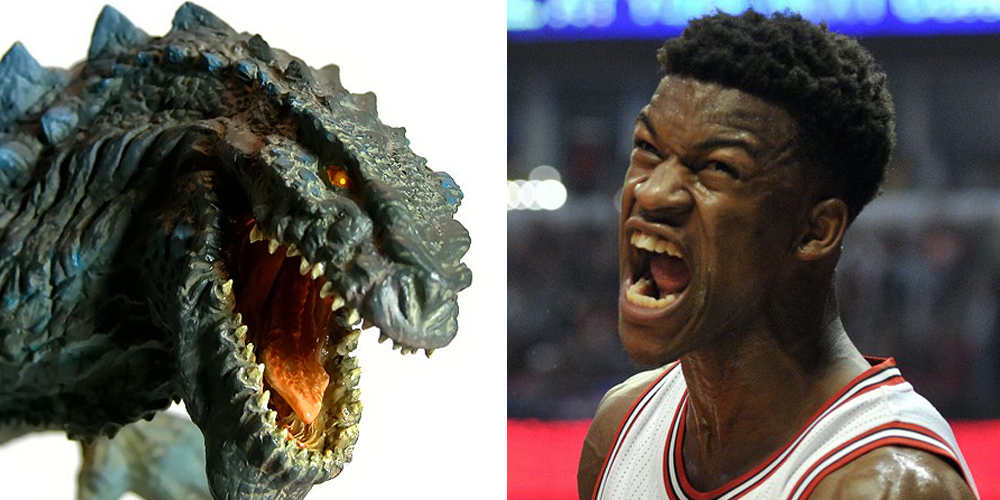 "God" the key word in that one! Jimmy Butler just went insane going 15-30 FG (2-4 3PTM 21-25 FT) for 53 Pts. "Ohhhhhh, look at me, I'm Slim, I get another point on the 30-pt Challenge Board! Do you get double if they score 60, because it was close!" And of course I poked the Slim, texting him earlier yesterday afternoon that Butler might not play, being listed as a game-time call due to a kankle. Yeahhhhh, so much for that. At least I won't suffer this kind of loss again, as Butler made himself a top-10 scorer last night, upping it to 23.1 PPG. Butler still kept it multi-cat with 10 boards, 6 dimes and 3 steals to top if off. I haven't been so turned on by a Butler since Michael Caine! He's also continuing a trend that the second round wings are paying off – Buckets, Kawhi Leonard, Paul George, Draymond Green… It's really making some nice parity among the game's elites so there's enough to not mind a later draft pick in 16-17, as you'll be able to nab two solid players at the first turn. It's going to make next year really interesting… Here's what else went down last night in fantasy hoops action:
Please, blog, may I have some more?