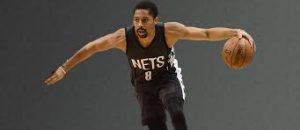 When the Nets acquired D'Angelo Russell in the offseason from the Lakers, it was expected that the former number two overall pick would be the face of the franchise. Made sense, as I've heard the rat population is huge in New York. I kid. I kid. Early on, Russell was playing like the face of the franchise, sporting a 35.8 usage rate. At the same time, a relative unknown started balling out, to the point where Atkinson could no longer deny what he was seeing. Every time he'd give him extended playing time, production would ensue. Coach Atkinson even moved Russell to shooting guard to accomodate. Then Russell went down with injury. And, as they say, the rest is history. Spencer Dinwiddie was made for New York City. He's a tough, no-frills kind of player. Biggie would have been proud, as he went from "ashy to classy." He was selected with the 38th overall pick in the 2014 NBA Draft and spent time in the D-League, before finding a home in Brooklyn. It all culminated with last night's performance:
| | | | | | | | | |
| --- | --- | --- | --- | --- | --- | --- | --- | --- |
| PTS | REB | AST | STL | BLK | TOV | 3PT | FG | FT |
|  31 | 5 | 8 | 2 | 0 | 1 | 3/10 | 10/24 | 8/9 |
Now, Russell is expected back soon from injury. The logical expectation is that he garners the 30+ usage rate from pre-injury, which would obviously nuke much of Dinwiddie's value. With that said, I do expect Dinwiddie to play the point with Russell at shooting guard. I also think that Dinwiddie has built up some equity, with both the coach and teammates, so he won't be one of those bodies with concrete blocks that were shoved into the Hudson River.
Here's what else I saw last night:
Please, blog, may I have some more?