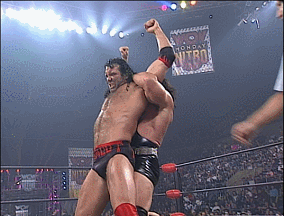 Y'all think he got out of it? I mean, c'mon…it's Razor offing Ramon! I bet he walked over, grabbed his toothpick and flicked it straight at Scott Steiner's eye. The glory of that gif. The mullet. Sorry, the sweaty mullet. The stubble chest hair. The shaking hamstrings. The black leather leotard. The metal print banner of WCW Monday Nitro. Goodness, take me back to 6th grade already!
No, don't do that. I don't want to be 12 again. However, that was the first time I ever played fantasy basketball. But I'll quit reminiscing and focus on what's really happening in that gif: the full nelson. Change the faces around, time travel to today and make that a basketball court in Denver and you'd see the story of Jameer Nelson and Emmanuel Mudiay: the young'n with the death grip on the PG position to start the year, but, wait for it…the wily veteran shaking free of his bonds on the bench to reclaim his rightful place running the team! Is it a stretch? Sure, but look at that extension through his obliques. Clearly, this is a great move to increase flexibility.
Ok, are we talking about wrasslin' or fantasy basketball? I'm all befuddled now. Must be the mullet.
Please, blog, may I have some more?