Even Tom Brady would agree it's time to do some hot Yogi!
Since getting to the Mavs on a 10-day deal, all Yogi Ferrell has done is play 37:29 MPG (which would be 3rd highest in the NBA) and lead Dallas to 4-straight wins. Break up the red hot Cubans! And the Mavericks were straight dealing in Portland Friday night – especially early – hitting their first 7 shots and building a big lead, which was just enough to hold Portland off. No one was hotter than Hot Yogi either! I think we have a new nickname! Shot an absurd 11-17 FG, including tying a rookie record (!!!!!) 9-11 3PTM, for a 32/2/5 line.
I do have to wonder on that huge last one though, what in the world is Al-Farouq Aminu doing?! He just stands there deer-in-the-headlights as the dude who hit 8 treys in the game has the ball wide open, and just lets him take the open shot! God, I hate Aminu, he's always a craw in my fantasy side! Or something like that… Anyway, you're of course adding Ferrell where you can if he's somehow survived on your wire over the weekend, but let's not expect the second coming of Steph Curry or anything. They already have a Curry on this team! Side note – anyone see Seth Curry's awful muttonchops this game?!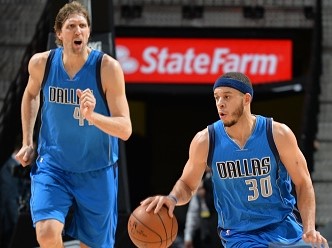 Even Dirk Nowitzki is like, "Ewwwwwww! You look like the Fall Out Boy singer!"
After the game, news broke that he's going to sign a 2-year before his first 10-day expires (I'm not sure how much is guaranteed, but still is cool to see him get paid!). Time to crack open the scotch and smoke a fatty! And by fatty, I mean a Cuban! Wait, not Marc Cuban, ahhhh! While it's a fun story for Hot Yogi, in 18 D-League games he averaged only 2.7 treys, and he only hit 8 treys in 10 games for Brooklyn. Sure, he wasn't getting this kind of run, but he had an opportunity on a worse team and didn't find the trigger like this… So enjoy this ride while it lasts if you nabbed him, but beware minutes crunches – when you hear Deron Williams' knee crunches – as he limps his way back onto the court. Until then, Hot Yogi!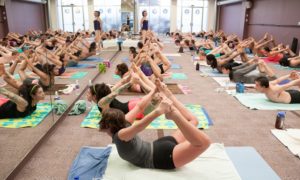 Here's what else went down over the weekend in Fantasy Basketball action:
Please, blog, may I have some more?