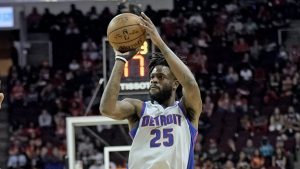 I remember watching Reggie Miller at UCLA and being mezmerized. Man, oh man could he shoot. Chants of Reggie! Reggie! Reggie! would reverberate throughout Pauley Pavilion. Then, he got drafted by the Indiana Pacers and the same chant was sung. One of the greatest shooters I've ever witnessed. He was a career 39% shooter from downtown. At the zenith, he attempted 6.6 while making 2.8 threeecolas per game. Back then, those were amazing numbers. The game certainly has changed, as Steph Curry leads the league with 11 threeecolas attempted with 5.1 makes per game. What hasn't changed, though, is the Reggie! Reggie! Reggie! chant, only this time it's for Reggie Bullock.
| | | | | | | | | |
| --- | --- | --- | --- | --- | --- | --- | --- | --- |
| PTS | REB | AST | STL | BLK | TOV | 3PT | FG | FT |
| 33 | 3 | 1 | 1 | 0 | 0 | 7/12 | 12/21 | 2/2 |
Played 43 minutes in an overtime game. Bullock missed five games due to an ankle injury earlier this month. Since returning three games ago, he's scored 15, 24, and 33 points and shot 4-for-10, 5-for-7, and 7-for-12 from downtown. Did the Pistons go all Steve Austin on him or something? Bullock is a 40% shooter from downtown, but this most recent heater of 55% is something else. He's been a top 30 player for fantasy over the three-game stretch without contributing much in any other category! Now, the efficiency is obviously going to come in, unless the Pistons truly did turn Bullock into the modern day, six million dollar man. With that said, he's been getting a ton of open looks because defenses have to sag down on Blake Griffin and Andre Drummond down low. There will be adjustments, so the volume of threeecolas will come back down. On the season, Bullock is averaging 5.6 attempts per game. Until then, enjoy the ride and chant at the top of your lungs, Reggie! Reggie! Reggie!
Here's what else I saw last night:
Please, blog, may I have some more?