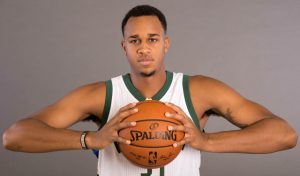 Most are familiar with chapter 3, verse 16 of the Gospel of John: For God so loved the world that he gave his one and only Son <Hey! That's me!!!>, that whoever believes in him shall not perish but have eternal life. Before storm clouds gather up above and lightning fries my plump physique into a mush of cooking oil, I was just joking God. Ha ha. I'm probably fine because I'm sure he/she/it was overloaded yesterday, but….out of respect and….juuuuust in case. Anyways, because we go next level here at Razzball, I want to mention chapter 3, verses 18-19 of the Gospel of John: Whoever believes in him is not condemned, but whoever does not believe stands condemned already because they have not believed in the name of God's one and only Son. <Hey! It's me again!!!!> This is the verdict: Light has come into the world, but people loved darkness instead of light because their deeds were evil. Yesterday, the fervent followers and believers of the NBA were graced with a sermon from the Book of John Henson, chapter 3, verses 18-19.
| | | | | | | | | |
| --- | --- | --- | --- | --- | --- | --- | --- | --- |
| PTS | REB | AST | STL | BLK | TOV | 3PT | FG | FT |
| 19 | 18 | 3 | 0 | 2 | 0 | 0 | 8/14 | 3/5 |
Granted, it was against the Brooklyn Nets, a team that is atrocious against the center position. With that said, since Jason Kidd was fired as coach of the Bucks (seven games), Henson has averaged 29.4 minutes, 12 points, 7.57 boards, 2.42 dimes, 0.8 steals, and 1.1 blocks. As long as the Bucks do not trade for a center at the deadline, have faith in the Henson. Is it any coincidence that I am Son and John is a Henson? I thinks not. See the light and come out of the darkness. If the Bucks trade for DeAndre Jordan or any other big man, then you can tear the Book of Henson out, get on your knees, and scream to the heavens: Why have you forsaken me?
Here's what else I saw last night:
Please, blog, may I have some more?