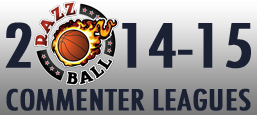 A new week, and another RCL leader is taken down! ¬†With an 8-1 win the Kap vs. Razzball league, Drew Holiday vaults into the top spot with 177 points and a half game over former leader Akron Lebrons. ¬†Pop's Team is just a half game behind that, and the gramps are falling apart… ¬†Getting intense at the top!
Check out how your teams stacked up this past week in the The 2014-15 RCL Master Standings table, and here's how the action went down in week 14 across our 12 RCL Leagues:
Please, blog, may I have some more?