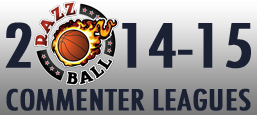 An All-Star Break shortened week, but no shortage of the Pop!  Pops's Team narrowly remained on top with a 5-4 win, getting them to 99 wins and 199 RCL points.  Couldn't be our official first 100-game winner or 200-point RCL scorer huh?!  I am disappointed in you!  You lack discipline!
Speaking of lacking discipline, I'll be back with the Daily Notes tomorrow morning.  Ain't much going down!  But using the break to get my 2015 SP ranks done over there on Baseball… Man there's a lot of pitchers…
Check out how your teams stacked up this past week in the The 2014-15 RCL Master Standings table, and here's how the action went down in week 16 across our 12 RCL Leagues:
Please, blog, may I have some more?