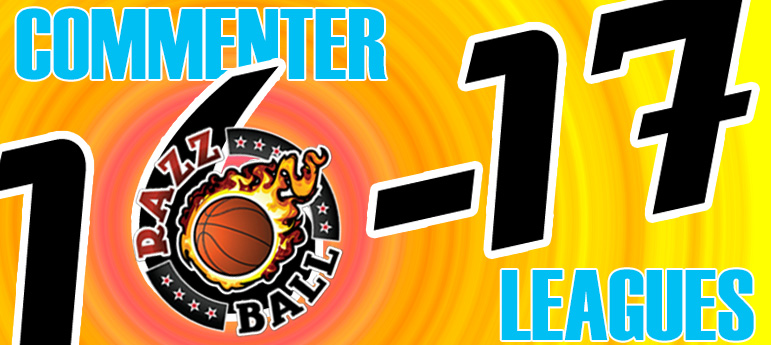 (Re-posting to the top one last time, with the same SUPER LOGO!  Last chance to create an RCL league and try to topple the field, or fill out on of the remaining leagues that needs owners.  Let's get a few more leagues together before Opening Night next Tuesday!)
The RCLs are back, baby!  Ugh, I am eager to win some titles this year after getting bounced in the finals in not one, not two, but THREE different leagues last year.  Infuriating!  I think that just proves I need to be in like, 15 RCLs this year.  You should too!
With the new season upon us, it's time to round up the competitors in Razzball Nation for a chance at RCL glory. ¬†Try for infamy and join legends¬†High as Greg Kite,¬†Akron Lebrons, &¬†Nick is Razzy¬†in the RCL Hall of Fame by beating the best & brightest fantasy basketball community in the land.¬† And if you're stumped on a good team name for your 2016-17 RCL squads, be sure to use our RAZZBALL BASKETBALL TEAM NAME GENERATOR with some Razzball-exclusive terms in there.¬† Robin Lopez TOTALLY sucks at basketball!¬† While getting your name immortalized in the Hall of Fame is obviously priceless, 1st place will receive a¬†$50 Amazon gift card¬†and the power of puppetry by subjecting me to another YouTube shaming video. ¬†I'm totally up for suggestions here, just no tattoos, gross out challenges, or things that would get me in trouble with my wife…
Please, blog, may I have some more?