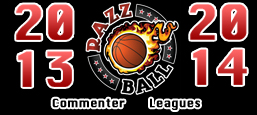 It's Week 2, and things are just warming up. The leagues are starting to show some separation. Some with pure dominance, others with smoke and mirrors. Let us begin:
JB's Random Commenter League.  The league leader, Baby got Back, was overtaken by Handsome Lads, who also won his week, going 8-1, and sits in first with 15-3. Baby got Back also sits at 15-3, so I'm sensing a rivalry taking shape… JB Gilpin, clearly dissatisfied with his team, made 2 trades that involved numerous players on his roster. All for naught, though, as he still lost his week, posting a 3-6 week, and currently sits 10th of 12. Our fearless editor will, no doubt, totally redeem himself in the coming weeks. We hope.
Please, blog, may I have some more?