It's baaaaaaaaack. I know the wait was excrutiating. The eye fatigue from those countless hours staring into the digital dojo. The clicks. Oh, the millions of clicks on the mouse button that turned you into a one-armed Popeye. What was it all for?… <in a voice that echoes and decreases in volume each time the phrase is repeated> What was it all for?…What was it all for?….
The chance to be the best of the best of course!
I've been told that the RCLs are populated with some of the sharpest fantasy basketball minds in the land. Do you have what it takes?
For those of you new to the game, RCLs stand for Razzball Commenter Leagues. It's not one…not two…not three….not four….but an infinite number of 12-team leagues all vying for one spot atop the RCL landscape. You can both join AND create a league. One may even have your favorite writer or commenter. Since you will be in multiple leagues, make sure to use the RAZZBALL TEAM NAME GENERATOR. It's been proven to be a hit with the ladies. At the end of the season, the overall best team will win a $50 Amazon gift card and be immortalized in the RCL Hall of Fame. 2nd place will get a $20 Amazon gift card and forever be the bitch.
The leagues with be Yahoo standard H2H cats: FG%, FT%, 3PM, PTS, REB, AST, STL, BLK, TO. Rosters will be: 10 starters (1 PG, 1 SG, 1 G, 1 SF, 1 PF, 1 F, 2 C, 2 UTIL), 3 bench, and 2 IL. The overall winner will be the team that:
Wins their playoff/league title
Out of all the champions, the team with the best overall W/L/T regular season record.
You ready?
TO CREATE A LEAGUE
Type in your league name
Change LEAGUE TYPE to Head-to-Head
Leave DRAFT as Live Standard Draft
Set your DRAFT DATE and TIME. (Note: You may ONLY change the draft time/date with unanimous agreement from everyone in the league)
Click FINISH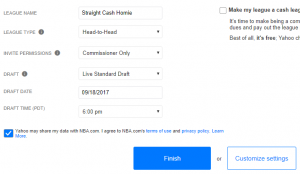 The next page is COPY AND SHARE YOUR LEAGUE LINK. Copy and paste the link to the spreadsheet.
Click COMMISSIONER TOOLS. Then click EDIT LEAGUE SETTINGS.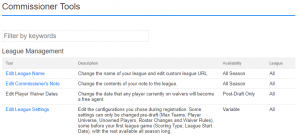 Scroll down and click AUTO-RENEW LEAGUE to NO and MAKE LEAGUE PUBLICLY VIEWABLE to YES.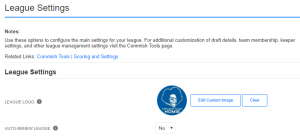 Update the spreadsheet when spots get filled in your league.
TO JOIN A LEAGUE
Click the LINK of the league you would like to join in the spreadsheet. Easy Peezy!