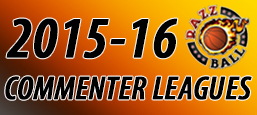 Chug some Pepto-Bismol, down some glasses of milk, and be sure there's a lot of toilet paper because we're back with the Razzball Commenter Leagues!  That's right, after embarrassingly not coming close to the RCL title last year, I burned out my insides beating a hot wings challenge for reigning champion Akron Lebrons.  At least it was only a day of pain, not a month-long shaming of having High as Greg Kite shaved in my head.  Well, now that I'm married, that latter one is definitely out…
And now it's your turn to beat the best fantasy basketball community around in the RCL leagues, and immortalize your 2015-16 season with a spot in the RCL Hall of Fame!  Not only does your banner fly forever, but 1st place will win a $50 Amazon gift card, along with the JB YouTube shaming video.  I think the eating challenge went really well last year – after, well – the head shaving wasn't too legible…  So this time I'll do a volume eating challenge of the winner's choice somewhere in the NC area, but nothing disgusting!  I'm not chugging a jar of mayonnaise, aight!  I'm thinking 5-pound burrito, 72-oz steak, 30 happy meals… whatever you'd like!  2nd place gets a prize this year as well, with a $20 Amazon gift card.
Please, blog, may I have some more?