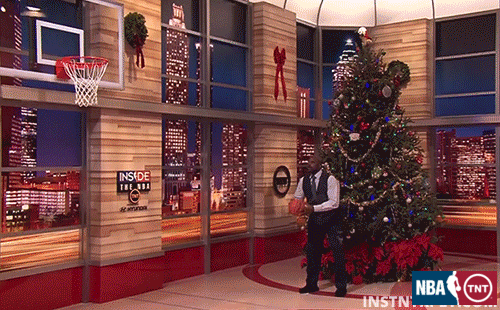 Ho! Ho! Ho! Hark the herald, Jerry Stackhouse sings! The NBA has never been in fuller effect across the years than at the culmination of this week every year: CHRISTMAS! It's unofficial start to the season (or the official start in the lockout-shortened 2011 season), and the first day since June owned by the NBA on the sports calendar. It's been football, football, football for the past six months, but even the King Kong NFL takes a back seat to basketball on Christmas (only 2 NFL games in Week 16 are actually on Sunday, December 25). Make way, because winter is no longer just coming…it's here! And with it comes all the basketball glory we can handle for the next 6 months.
From now on we'll see teams jockeying for playoff position. You know, those coveted spots that only the few get to have in calling themselves the next up to be humiliated by the Cavs or Warriors. But seriously, this is where we start to see what teams really are. And it's similar in other sports. Sure, you can start 5-0 Falcons in 2015, but you're finishing 8-8. Or in baseball, everyone knows that the record before Labor Day is all just feeling it out. And in the NBA the Hawks may begin 9-2, but are they really that great? My optimistic homerism is hopeful, but their record now shows the answer is no. How about the Raptors? They started sluggish; they must have taken a step back this year. Well, um…nope. They're a favorite to reach the Eastern Conference Finals again. See, Christmas brings out the best in us all, and acts as a litmus test for starting the year.
Please, blog, may I have some more?