For those of you who didn't watch the Sixers vs Lakers game on Tuesday, you really missed out on something special.  It was Kobe Bryant's final game in Philly (where he played high school ball), and the atmosphere was absolutely electric.  Kobe led off the game by draining 3 treys in his first four shots, with fans cheering every time he touched the ball.  Unfortunately, the adrenaline could only take his aging body so far, and the inefficient Kobe of this year, soon took over.  There were flashes of former glory throughout the game, but it's clear that his brilliant career is coming to an end.  "There's so much beauty in the pain of this thing," Bryant said of his struggles on the floor.  Thankfully, he is playing the season out, and giving his fans a last chance to say goodbye.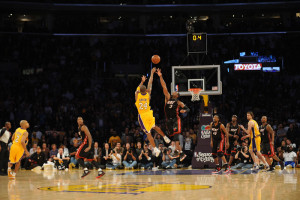 Kobe has given us some incredible moments over the years, and like him or hate him, you have to respect him.  He is one of the greatest competitors in NBA history, and he plays with as much intensity and heart as anyone that I can remember.  Bryant always put 110% into the game, and that constant strain is likely what wore his body out.  However, it's also what makes him one of the greatest to ever play the game.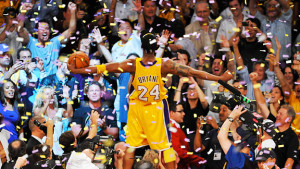 It's going to feel very odd watching a Laker team without Kobe Bryant.  I suppose all stars come and go, but Bryant just seemed to defy all odds up until this year.  It's even stranger to see Kobe starting to show up on some waiver wires.  As for me, I own him in a couple leagues, and will be holding him for the duration of the season.  Just for the principle of the thing.
Kobe is among the last of the old guard, with veterans and retired players like Pierce, Allen, Garnett, Duncan, Nowitzki, Nash, and Shaq.  New players like Curry, Harden, Westbrook, Leonard, Durant, Davis, and George, have risen to take their place.  It's a pretty incredible cycle if you think about it.
Ok, enough of the nostalgia, lets get into the waiver wire for this week!
Please, blog, may I have some more?