Ya know, I really liked that movie Kiss Kiss, Bang Bang. Pretty quotable, Robert Downey Jr. right as he was completely taking off, an always lovable Val Kilmer. "Who taught you math?!" is a fun line when there's a botched Russian roulette attempt…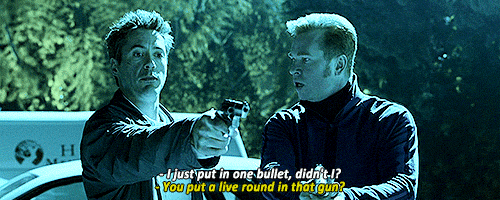 Which kinda feels like Marquese Chriss right now! 20% of the time, he's this dynamic, toolsy rookie every time! Wait, that's a different movie… Big night from Chriss against the Grizz, going 20/6/0/2/1 with 2 treys on 8-12 shooting.
Throwing down highlight reel dunks, and bangin' treys! While the D stats have actually been there (1.5 STL 0.7 BLK over the past 11), he hadn't scored over 5 points in the previous 4 games. Joakim Noah's jump shot, woof! The minutes remain waffle-y as well, going 17, 12, 8, 17, 34 the past 5 games. I don't see any reason why the bumpy ride would all the sudden be smoother, but it's lines like these that make him a tantalizing stash if you're locked into a high seed for the fantasy playoffs. Of course, when I recommend stashing some certain forwards, it doesn't always go well. Sometimes I feel like when I look up the word "idiot", I'll see a picture of my face! Instead I'll find:
Too many GIFs in the intro today? I guess 5 GIFs can be a lot! Wait, who taught me math?! Here's what else went down last night in fantasy hoops action:
Please, blog, may I have some more?