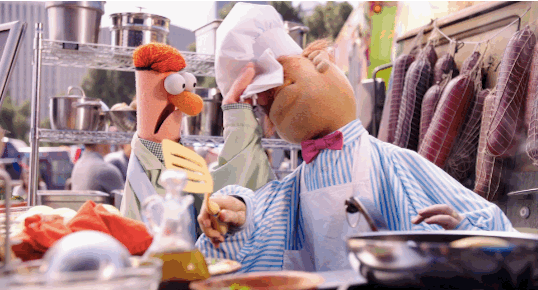 One of the joys added to my life since tying the knot a few years ago was the culinary arts. I'm not quite sure what happened first: the desire to impress my wife while we were dating, or my desire to watch Food Network as long as possible. Ok, actually, that's easy…I've been on the good impression train since Day One. It's called being a man. However, along the way my love for all things cooking developed. Well, not all things. But you put Chef's Table on the TV and I'm glued. For hours. Secretly, I just want to be a sous chef to someone great.
The sous chef is the numero dos. The Robin to a great chef's Batman. The Bonnie to someone's Clyde. You know, the Seth to someone's Steph. Sure, little brother Seth Curry may have eventually played at the more prestigious North Carolina school, but it's Steph Curry that's revolutionizing basketball. You'll never confuse the two, but lil' bro Seth's trying his darnedest in his attempts.
I wanted to call him the sous chef to Dirk's executive in Dallas, but let's call it what it is: that designation goes to Harry B (Harrison Barnes, for all you non-hipsters). Barnes has been a boon for the struggling Mavs so far, but while Dirk Nowitzki's been nursing a bum achilles, sous chef Curry's been getting some chicken curry on the menu lately. When given more minutes, and greater confidence to let it fly, Seth Curry's posted a penchant for steals, points, threes and dimes. If his minutes keep up, we could see more of the same from this past week when he topped the 30 mpg mark. Even with just a slight tick, it looks like Curry could be cookin' up a significant role on this Mavs team for the season.
And for week? Four games will do just the trick. Here's the 7 Ahead for Week 4!
Please, blog, may I have some more?