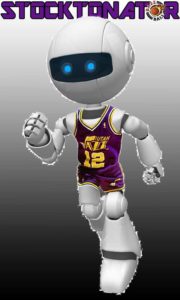 Projections are first run around 6AM EST and updated at the :50 mark through 6:50PM EST with updated starting lineups (the Time field turns green when starting lineups have been integrated) and injury status (D=Doubtful, Q=Questionable, P=Probable). Players who are 'Out' are not included. Vegas point totals and spreads usually post in the AM (EST). Spread (Spr) should be read as 1.5 = that player's team are 1.5 point underdogs; -1.5 = that player's team are 1.5 point favorites. All times are EST. GT=Game Time hour in EST (this format makes it easier to do >8 for 9PM+ games). LU=Lineup spot (S=Starter, B=Bench. Highlighted means official lineup has been posted. Italics means projected starter/bench).Y! Points reflect Yahoo's default season-long point format.
Download Table as CSV
Note: Filters and sorting in the table below apply to the output!
| # | Name | Team | Pos | GT | LU | Opp | Veg Pts | Spr | I | MIN | PTS | REB | AST | STL | BLK | TO | 2P | 2PA | 3P | 3PA | FT | FTA | PF | Y! PTS | Own % | Last Update |
| --- | --- | --- | --- | --- | --- | --- | --- | --- | --- | --- | --- | --- | --- | --- | --- | --- | --- | --- | --- | --- | --- | --- | --- | --- | --- | --- |