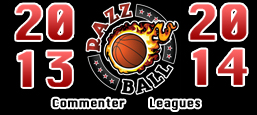 Ok, That title is not exactly true. It was basically just short. I for one welcomed not having to check my lineups for a few days. It's exhausting. For all that effort, I may as well lace up my chucks and join the lay-up line, amirite?
The Basketball doldrums: We have reached them. One must only plow bravely onward, and trust that the stretch run will ramp up the intensity. To get yourself psyched up, why not check the master standings? You can find where the following weekly winners stack up:
Please, blog, may I have some more?