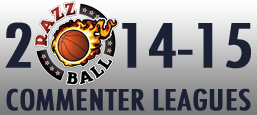 Whoa, drafts are starting already?!  The early bird catches the predator!  Wait, I don't think I got that right…  Getting a draft done early after all this rankings work was a liberating, yet headache-inducing experience. People have been looking at my ranks too much!  Razzball Nation is going to a tough customer in their fantasy leagues this year… If you're itching to start a Fantasy Basketball league, we need more RCL commishes to host a league just like this one, so hop over and start and RCL League today!
Overall, I'm iffy on my first team.  I think I like it.  Has a little too much youth – but just how the draft went.  "Enough noodling, show us your goods!"  "What if my goods are a noodle!?"  Here's how the draft went last night, and my pick-by-pick analysis below:
Please, blog, may I have some more?