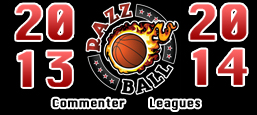 Ok Fight Fans, the white stuff is falling in many of the basketball cities: New York, Brooklyn, Chicago, Denver, Toronto, Milwaukee, Denver, Cleveland, Minnesota… which I know isn't a city, but never having been to that fine Fargo state, if the team refers itself to that moniker, it's good enough for me. But good enough isn't what you players in the Razzball Random Commenter Leagues should strive for?!! Greatness! Immortality! These are your goals. And some of you need to shake off the holiday distractions and focus on the prize:
**The master standings are now up!  Check out how you're stacking up against all RCL teams here, or hover over "Leagues" to check in with the standings updated weekly**
Please, blog, may I have some more?