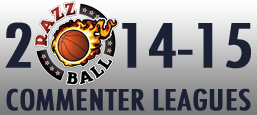 Pops is running away with it!  Hurricaning away with it!  Hoverounding away with it!
Yes Pops's Team has moved even further into the RCL lead, winning 7-2 last week for a 61-19-1 record and 123 RCL points – 9 ahead of 2nd place.  C'mon JayWrongers!  We need to put a stop to da Pop!
We'll all hoping Pops falls down a peg or two inWeek 10 in the The 2014-15 RCL Master Standings table, and here's how the action went down in week 9 across our 12 RCL Leagues:
Please, blog, may I have some more?