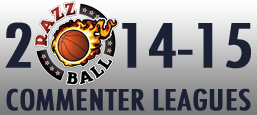 Nobody can stop da Pop!  Once you go Pop, you'll never stop…?  I imagine a grandpa using that line!  Even if it does sound like the Pringles slogan…
Only a single point ahead of the field last week, a huge 8-1 win propelled Pops's Team into a commanding RCL lead with 109 points.  Team of vets pulling through!  Three teams have now passed the 100-point threshold on the leaderboard with Pops at 109, the Akron Lebrons at 104, and the Razzball-antagonist Drew Holiday at 101.  Let's pull it together, Kap vs. Razzball league!  We can't let name-changers win!
We'll all be chasing Pops in Week 9 in the The 2014-15 RCL Master Standings table, and here's how the action went down in week 8 across our 12 RCL Leagues:
Please, blog, may I have some more?