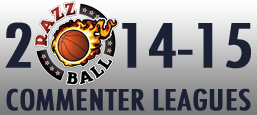 After a  7-2 win in the Take on Jay(Wrong) league, it's back to the top for Pop!  With a record of 40-13-1, Pops's Team has retaken the #1 spot in the RCL leaderboard over micoolj79's Team.  Thank the lord, Pops is so much easier to type!  The team of vets continue to impress, and the rest of RCL needs to fight harder to bring down that mess!  [my attempt at rapping, awful]
It'll be a big week as we try to catch Pops's and micoolj79's Teams in the The 2014-15 RCL Master Standings table, and here's how the action went down in week 6 across our 12 RCL Leagues:
Please, blog, may I have some more?