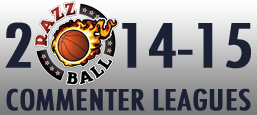 Through four weeks and the seasoned, elderly, over-the-hill-but-still-owning Pops's team cannot be stopped!  Three straight weeks atop the RCL leaderboard, but the top of the pedestal is tightening in a vice-like grip in the bottleneck.  I think I combined like three separate metaphors and made that incomprehensible…  With 55 total points, micoolj79's Team is only one point behind with another 5 teams at 50 points or better.  Pops's better drink his prune juice, because things are about to get murky!
You can see how you stack up against Pop's and micoolj79's Teams in the The 2014-15 RCL Master Standings table, and here's how the action went down in week 4 across our 12 RCL Leagues:
Please, blog, may I have some more?