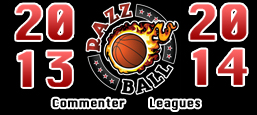 So, you may have heard, gentle readers, that Terrence Ross had a pretty good night on Saturday, dropping 51. Many would say that that would qualify as a career night, if you will. Well, I too had a career night, when I recommended that he should be dropped in my Friday article. Boy, did that make me some friends! What am I getting at? Redemption, first and foremost, but timing more specifically. Timing is key in life, and I have seemed to have misplaced mine.
But in the game of fantasy basketball, it is time to go for the gusto! Lets see who shall rise, and who shall fall in the Razzball Random Commenter Leagues! And to grasp the true glory of it all, why not check out the master standings to see where you rank in global domination:
Please, blog, may I have some more?