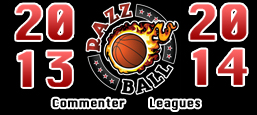 Razzball Hoops Nation!  It's that time of year where you bring your smack to the table, your chips into the pot, your yelling at my ranks to the battleground.  It's RCL time for Basketball and I'm excited for the best RCL season this side of Jeff Hornacek's short-shorts.
Listen, I know RCL last year didn't go very smoothly over here on hoops.  I took over as editor mid-season, had a lot of things not transition well, and I take responsibility for not shepherding through the final few months when I took over as well as I could have.  To make up for it, I went to Grey on my hands and knees and pleaded for the biggest prize pool we've ever given out with the sweetest Razz-pimp gear.  The top winner will get a 2013-2014 RCL Champion Jumpsuit (branded basketball of course) and their choice of a Razzball T-Shirt.  Second place won't go empty-handed either, and will get a T-shirt of their own as well.  But it doesn't stop there.  As an acknowledgement of shame and embarrassment from last year, I will shave (well – will have a professional barber somewhere – hopefully from Barbershop) the winning team's name in my head and post on the Razzball YouTube channel.  That way when you see the back of my head like in my avatar pic, you'll see in painstaking pale scalp skin the name of your winning team.  Wear your sunglasses!
Please, blog, may I have some more?