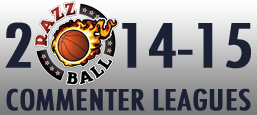 Happy 2015 to the RCL world!  Just like celebrating a new year with your family, ol' gramps has gotta perk up and remind everyone that he is above you and your elder.  "Back in my day, we didn't InstantGram to show pictures to anyone and we had to drink bootleg moonshine!"
And on our calendar flip, we get to look up at Pops's Team running away with the RCL lead, racking up an 8-1 victory to move to 69-20-1 on the season good for 139 RCL points.  micoolj79's Team is in second with 128 points, and OH! – lookie here – Slim's Team in his RCL doing work with a 62-27-1 record good for 125 RCL points and third on the leaderboard.
We younguns are all hoping Pops calms it down a bit in Week 11 in the The 2014-15 RCL Master Standings table, and here's how the action went down in week 10 across our 12 RCL Leagues:
Please, blog, may I have some more?