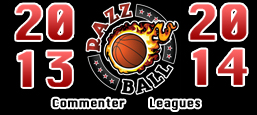 You guessed it. We are halfway through the Fantasy season. Week 12 of 23. The mid-point. 50% done. I gather you get it, so I won't continue to belabour the point. If you're in a keeper league, now's the time to figure out if you're going for it this year, and if so, you might think about the risk/reward trades a little more. Will Marc Gasol get back to form, is he a buy low(er) candidate? Or, if you find yourself hopelessly buried from a Felton/Nash/Kobe/Tyson early gut-punch, you may want to sell for draft picks. Decisions, decisions. Alas, the Razzball Commenter Leagues are of the redraft variety, so the only motivator is GLORY! And to see the most Glorious of them all, Check out the master standings.
Shall we take a look at how these Inglorious Bastards are fairing at the halfway point?
Please, blog, may I have some more?