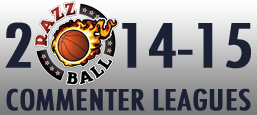 Two weeks in, and this is why you trust your veterans this Veteran's Day!  Razzball and RCL veteran Pop's Team takes over sole possession of the RCL lead with a blistering 16-2 start.  And to get there, the immaculate 9-0 victory.  *slow clap*  We'll get more into Jay's league and all the RCLs below, but on a day to give thanks, a quick shout out to all our veterans out there so we can play silly fantasy sports.
You can see how you stack up against Pop in the The 2014-15 RCL Master Standings table, and here's how the action went down across our 12 RCL Leagues:
Please, blog, may I have some more?