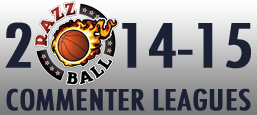 Oh no, the Pops losin' his hops!
Our RCL leader fell 4-5 this past week, but he had amassed such a surplus of wins and butterscotches that he's still got a 5 point lead on the RCL leaderboard.  Everything is better with age!  Plus he's getting LeBron back…
We mere mortals hope Pops will lose once again in Week 12 and fall in the The 2014-15 RCL Master Standings table, and here's how the action went down in week 11 across our 12 RCL Leagues:
Please, blog, may I have some more?