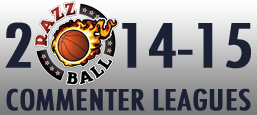 Through the All-Star Break shortened week #2, we're now all further away from the behemoth that is Pops's Team!  A shortened week, and Pop has elongated his lead.  That sounded dirty.  A 6-3 win moves Pop to 105-47-1, leading the first five teams to top 100 wins.  And #2 Akron Lebrons at 103-50-0 takes home the honor of the first RCL team to clinch a playoff berth.  Lebron's always been making the playoffs, it's just getting that title that's hit-or-miss!  Gus Ayonin'!
Check out how your teams stacked up this past week in the The 2014-15 RCL Master Standings table, and here's how the action went down in week 17 across our 12 RCL Leagues:
Please, blog, may I have some more?