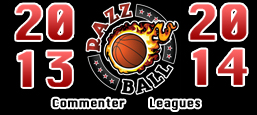 So, I can safely say that we all are feeling a little over indulged this week.
At times like theses, I simultaneously applaud the invention of jogging/sweat wear, and it's practical comfort, while also making note of the most ironic departure from a genre of garment's original intended use. Who ever sweats while joggging in this stuff anymore? Maybe everyone, but seeing as I'm not out jogging, in these garments, or anything else, I guess I can't really be so smug about it. And this applies to some of our early leaders in the Razzball RCLs, you shouldn't be so damn smug either, after last week 5. Are you true contenders, or sweat wear? Let's take a look:
**The master standings are now up!  Check out how you're stacking up against all RCL teams here, or hover over "Leagues" to check in with the standings updated weekly**
Please, blog, may I have some more?