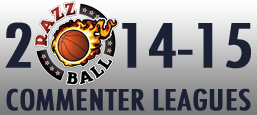 Moving into the semis!
Our top-flight bye week teams are now unleashed, which means we need some #1 and #2 seed upsets!  Nice work to the teams moving on through the playoffs, as my disappointing year in the RCLs is mercifully over.  No more reaches or drafting hurt guys!  Dead to me KD, dead!  Slim Reapered yourself!
Check out how your teams stacked up in the final 2014-15 RCL Master Standings table, and here's how the action went down in first week of the playoffs across our 12 RCL Leagues:
Please, blog, may I have some more?