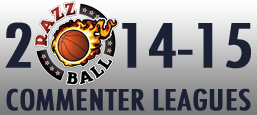 One regular season week to go!  Only one week left before regular season records are locked in, then the best of the best that wins their league title is looking at RCL Glory!
We're still chasing the juggernaut of Pops's Team with a 116-54-1 record and 233 RCL points, but My dog Lucy has been on fire and will challenge Pops for that league title in the Take On The Jay(Wrong) league.
Check out how your teams stacked up this past week in the The 2014-15 RCL Master Standings table, and here's how the action went down in week 19 across our 12 RCL Leagues:
Please, blog, may I have some more?