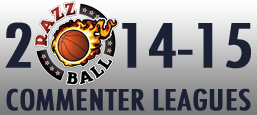 The return of Pop!  With a 7-2 win, Pops's Team has given his veterans an elixir of youth (read: stem cells & black magic) to reclaim the #1 spot in RCL land.  Maybe he buried Kobe in the backyard and he came back as zombie Kobe!  NBA Cemetery, coming to a theater in Philadelphia soon…
Check out how your teams stacked up this past week in the The 2014-15 RCL Master Standings table, and here's how the action went down in week 15 across our 12 RCL Leagues:
Please, blog, may I have some more?