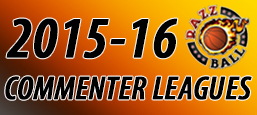 After a wild week of NBA action featuring a few injuries to some of fantasy's top performers, owners are quickly trying to adjust to their league's new equilibrium. As a Kevin Durant owner, I can personally attest to the struggle of making up for lost production while trying to stay competitive in a weekly matchup.
Despite all the planning, research, and strategy an owner can put into his team, fantasy ultimately comes down to luck, and the injury bug seemed to be biting in full force last week.
While some teams succumbed to rotten luck in week 3, the strongest teams managed to persevere to claim the top spots in the standings.
Check out how your teams stacked up in week 3 of the 2015-16 RCL Master Standings Table table, and here's how the action went down in the third regular season week across our 22 RCL Leagues:
Please, blog, may I have some more?