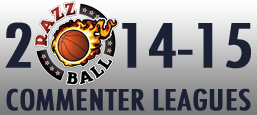 It's getting tighter and tighter atop the RCL Leaderboard, but for now it's another week where we crane our necks and look up at Pops's Team!  155 points with a 77-30-1 record is good for the top spot, but the streaking micoolj79's team is now a single point and half game behind.  Mico es rico!
You can track how your teams stack up against our two leaders in the The 2014-15 RCL Master Standings table, and here's how the action went down in week 12 across our 12 RCL Leagues:
Please, blog, may I have some more?