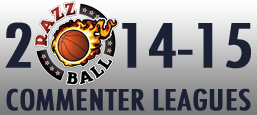 And the race for #1 heats up!  Surviving a 5-4 win, Pops's Team also survived the push from the Akron Lebrons, who went 7-2 to move to 110-52-0, only a half game behind Pops.  Pops might kick Akron in the nards!  It's gonna get scrappy!
Check out how your teams stacked up this past week in the The 2014-15 RCL Master Standings table, and here's how the action went down in week 18 across our 12 RCL Leagues:
Please, blog, may I have some more?