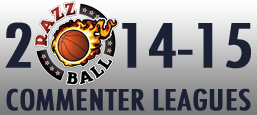 Congratulations to the juggernaut that was The Akron Lebrons!
For the second straight season, the best team in the regular season across all the RCL leagues also won their league title.  Dominance is dominance!  Is that on the 50 Shades of Grey movie poster?
As detailed when we opened the 14-15 RCLs, Akron will receive a champion jump suit and gets to choose an eating challenge for me to attempt (and hopefully conquer) in their honor.  Oh man, I didn't even finish my Mexican food entree last night!  So hit me up in the comments Akron, or e-mail me jb at razzball.com (sometimes the links screw up those pesky e-mail clients!).
And an added bonus, you will forever be enshrined on our Hall of Fame page to show to your doubters in life.  "Why are you 15 minutes late to work?!"  "Why aren't you good enough to be in the Hall of Fame, Mr. Boss!"
You can check out how your teams compared to the title-winners in the final 2014-15 RCL Master Standings table, with the league champions in bold and enlarged.  I've DEFINITELY seen that on the 50 Shades of Grey movie poster…  Here's how the finals wrapped up across our 12 RCL Leagues:
Please, blog, may I have some more?