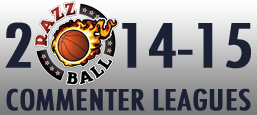 Another week, and another Pop's Team domination!  Only gets better with age, amiright?!  Jay has been taken on in his RCL so hard, that he's the Titanic to Pop's iceberg.  Worst metaphor of the year award! Hey, I'm still reeling since both of my teams are in the .500 zone.  It's like the friendzone, but worse.  Friendzone with that friend trying to hook you up with other people.  What I'm trying to say is, "Pop's, wanna go out and see Hunger Games this weekend?"
You can see how you stack up against Pop's juggernaut in the The 2014-15 RCL Master Standings table, and here's how the action went down across our 12 RCL Leagues:
Please, blog, may I have some more?