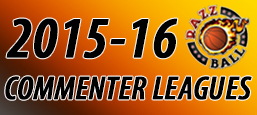 As the east coast got hammered with a record snow fall, all I can say is thank goodness for fantasy basketball.
Between the hours of shoveling and cabin fever, having a simple hobby like fantasy basketball provides a distraction from my losing battle with Mother Nature.
While I might not be lucky enough to win my matchups even with the extra preparation time, at least I had something to keep me entertained.
At the end of the day, win or lose, that's the real reason we all play. Fantasy basketball is fun, and even small victories, such as correctly streaming a breakout player, validate a season's worth of decision.
For those top tier teams, winning is definitely fun.
Check out how your teams stacked up in week 13 of the 2015-16 RCL Master Standings Table table, and here's how the action went down in the thirteenth regular season week across our 22 RCL Leagues:
Please, blog, may I have some more?