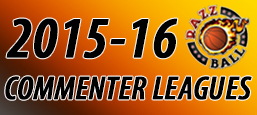 As the race to the top of the RCL Master Standings is in full force, it is important to remember the fantasy fundamentals for the rest of us trying to catch up. With many teams experimenting with new lineup combinations, the next popular waiver wire addition can emerge at any time. For everyone looking to climb up the standings and catch the league's elite, it begins with amassing a solid bench and collection of valuable contributors. Fantasy champions aren't built overnight (unless you had a really good draft, in which case, congratulations!), so weeks 7-13 are just as important as weeks 1-6 in changing the trajectory of your team.
Check out how your teams stacked up in week 6 of the 2015-16 RCL Master Standings Table table, and here's how the action went down in the second regular season week across our 22 RCL Leagues:
Please, blog, may I have some more?