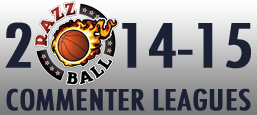 It's championship week baby!
144 teams entered, only 24 remain, and we're less than a week away from crowning the 2014-15 RCL Champion.  And the champion will be a…  champion (?) of endurance!  Navigating these DNPs, injuries, and tanking teams have driven many-a-fantasy-player to neurosis!  So may the healthiest and strongest, and well – sanest team prevail!
Check out how your teams stacked up in the final 2014-15 RCL Master Standings table, and here's how the finals will look across our 12 RCL Leagues:
Please, blog, may I have some more?