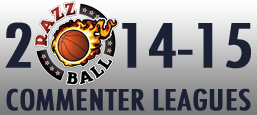 A shake-up atop the standings!  Pops's team couldn't quite handle being the hunted, but still put together a 6-3 week to be a mere single point behind our new leader.  micoolj79's Team!  A 7-2 win has Mico (what I'm going to call them for short) at a 34-11 record and the sole possessor of the #1 spot.  It's a two horse race right now!  But the rest of the RCL field is ready to pull a scene from The Godfather.  "Mini-me put roadkill in my sheets!"  Paraphrasing the legend Seth Green right there…
It'll be a big week as we try to catch micoolj79's and Pop's Teams in the The 2014-15 RCL Master Standings table, and here's how the action went down in week 5 across our 12 RCL Leagues:
Please, blog, may I have some more?