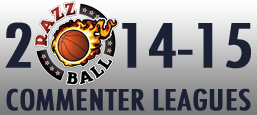 A shake-up at the top!  After weeks of reigning terror over the RCL Leagues, Pops's Team hath been dethroned!  With Pops suffering a 4-5 loss, the Akron Lebron's are hoping to finally bring a championship to Cleveland.  After an 8-1 win last week, Akron won 7-2 and moved into a half game lead on the RCL field with 164 RCL points.
With the shake-up up top, it's tightened the standings in the The 2014-15 RCL Master Standings table, and here's how the action went down in week 13 across our 12 RCL Leagues:
Please, blog, may I have some more?