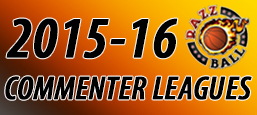 RCL Playoffs, baby!  Slim and I have mentioned several times on the Pod that the RCL difficulty level is sky high.  Slim had an easier time in a $250 league than the RCLs!  And we're not saying this just to pump up your egos, Razzball Nation bee smawrt!
In our final regular season week, boy did I get a chance to play spoiler!  I faced off against #1 overall RCL team Heat Apologist in the JB's surprise RCL, and you're welcome alligno, Nick is Razzy, Smokin' Fine Cubans and Big-O-Miller!  Shocked Mr. Apologist with a 6-2-1 victory bringing him down to tied-4th overall.  Of course all playoff teams are still alive in the quest for the overall RCL title, as the crown goes to the team that won their fantasy playoffs and had the best regular season record amongst the winners.  Best of luck to everyone in the playoffs, and my 4 RCL playoff teams hope to do some more spoilin' these next 3 weeks!
Check out how your teams stacked up through the final week of the 2015-16 RCL Master Standings Table table which is now finalized, and here's how the action went down in the nineteenth regular season week across our 22 RCL Leagues:
Please, blog, may I have some more?