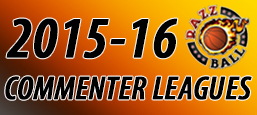 As the holiday season quickly approaches, it's important to make time for family and to give thanks for all the blessings in our lives. In between the turkey and tradition, Thanksgiving doubles as one of the most significant sporting days in the nation. With professional football on the holiday dating back to 1920, it's easy to get lost in the hype surrounding your pigskin potlucks.
While many fantasy football owners are focusing their energies on a potential playoff push, fantasy basketball owners need to continue to do the little things like setting your lineup and checking the waiver wire.
For the dedicated players, their weekly conquests are as certain as death and taxes or the 76ers and losing. As we spend the day traveling back to our families and loved ones, let's glorify the Razzball fantasy stars of the previous week.
Check out how your teams stacked up in week 4 of the 2015-16 RCL Master Standings Table table, and here's how the action went down in the fourth regular season week across our 22 RCL Leagues:
Please, blog, may I have some more?