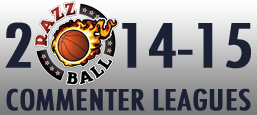 The Pops keep winning, as a 6-3 victory in the Take on Jay(Wrong) league has Pops's Team still first overall in the RCL Master Standings.  "I gotta have my Pops!"  Pops also lost dimes by a single assist last week, but held on just enough to tally 93 points on the leaderboard.  But we have a surging #2, and I don't mean that feeling you get after eating a breakfast burrito!  Look out for the Akron Lebrons in the Razzball Snipers league, who have gone 37-8 the past five weeks.  C'mon Snipers, let's get that Bobby Lee Swagger back!
We'll be chasing Pops and Akron in Week 8 in the The 2014-15 RCL Master Standings table, and here's how the action went down in week 7 across our 12 RCL Leagues:
Please, blog, may I have some more?