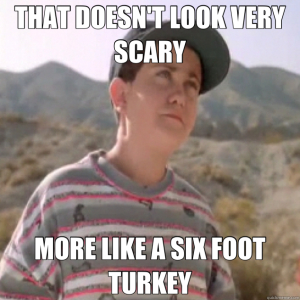 Happy Thanksgiving Razzball Nation!  This is my last daily recap for the week, so wishing everyone a happy Turkey Day where we can take a day off hoops, watch football, then shame eat pounds of leftovers while watching Goran Dragic standing idly by as he gets no usage for the Suns this weekend…
But what better way to sendoff into the Holiday weekend with the Six-Foot-Turkey himself, Dr. Ersan Ilyasova.  While he's averaging under 21 minutes a game in the past five games (That doesn't look very scary!), the consistency is kinda preposterous right now.  Is exactly in 20-21 minutes in five straight as Kidd apparently knows Ersan's optimal usage, and has scored 13+ points in all of them.  Multi-3PTM in three of those five, grabbing a few boards, and actually a semi-usable player right now off 13/9/0/1/0 and two treys last night.  It's bottom-end 12er worthy, but in limited-move RCLs, I grabbed him Monday to use for a four-game week and like him for matchups play.  A low-end ThrAGNOF with some boards!  What the wire is for, and even though he's owned in 44% of Yahoo leagues, it's a little inflated by dead/auto-draft teams given his silly pre-draft ranks by a lot of experts.  I'm keeping that Turkey fresh and might even hold on through next week as well, and then gobbling down the rest of my leftovers before week 7 and the Bucks' two-game week.  Threes ain't got no face!  And I'd be just plain sick of all the Turkey leftovers at that point… Here's what else went down last night in fantasy hoops action:
Please, blog, may I have some more?