You might as well set up a Civil War style triage on the Thunder bench, because somebody has the team set of Thunder voodoo dolls and isn't wasting any time!  Adding to this virtually unprecedented injury wave to hit an NBA team through only week one of the season, Perry Jones knocked knees for the second game in a row; this time in a ton of pain and had to exit.  They say a picture is worth a thousand words, so check out the Thunder depth chart on Rotoworld, where the red S means sidelined: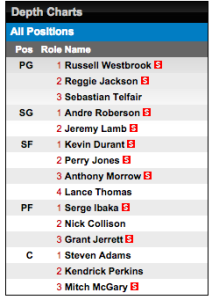 Oklahoma City Red S-es!  And while a "knee contusion" usually wouldn't worry me too much, George Hill had the same deal and he's going to be out until late-November is sounds…
On the plus side, Serge Ibaka is absolutely en fuego out there.  25/11/2/0/1 and forced to take contested jumpers the whole night, but hit 11-14 including three treys.  And played 46 minutes out of desperation!  The blocks will come, so if you got Serge late round 1 (like we had him) or round 2, you've got something of your own surging in your pants.
On the negative side, Reggie Jackson is playing with some ill-advised reckless abandon.  I mean, give the kid some props for playing through numerous injuries last night, but he ended up with his butt on the hardwood more often then Paris Hilton.  Had a fantastic slash of 13/4/14 but hurt his wrist limiting him to 4-14 FG (0-6 3PTM).  Plus the ankle still looks gimpy.  I know the upside is immense the next month, but I might try to sell RJax high after watching this game.  It was like watching Denard Robinson at Michigan.  I'm not a huge college football fan, but my dad went there and I watch parts of most games, and Shoelace is still the most dynamic player I've ever seen in Maize & Blue.  But he seemed to leave early almost every game, getting battered and beaten up.
The Thunder need to do everything and anything to get healthy, with three straight off days until Friday.  My recommendations include – every player eating a live octopus chasing it with raw eggs, hiring the Wolverine (Jackman, not Denard) for some mutant healing blood, and calling Mrs. Cleo to figure out which guy will be hurt on Friday and benching him.  Here's what else went down last night in fantasy action:
Please, blog, may I have some more?