So as numerous comments have suggested over the years, I sometimes act as your fantasy therapist.  "WHY ARE ALL MY GUYS HURT?!"  But this morning, I'm using Razzball Hoops to therap-ize.  You guys are going to help therap-ize me…  Usually weekends are either "good", "bad", or "relaxing".  That's 99% of weekends.  Good = fun things happened, yay!  Relaxing = you didn't do much, and you're recharged for another work week.  Bad = things cut into the relaxing…  But for me, it ran the gamut!  I've mentioned a few times that the wife and I moved (yay!), we love the house (yay!), but ran into a bajillion little things and aren't nearly as unpacked as we want (boo!) and missing a box that still hasn't been found ($%&%!).  Then we have to rush Saturday night to get to Charlotte to be ready to tailgate for the Panthers game.  Tailgating was sick, but then I started to feel a little iffy during the game…  At least we were true fans and didn't leave early to beat traffic in the 2nd half of that bludgeoning!  And I was able to snap the best picture I've ever seen of the Charlotte skyline: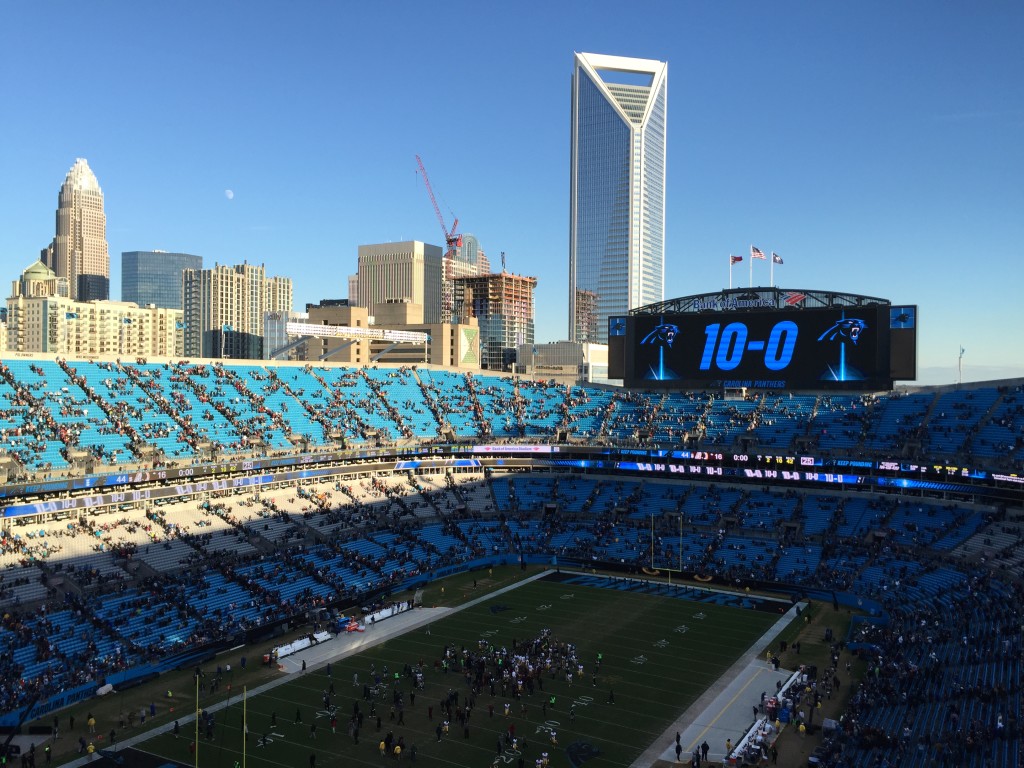 There's your pinnacle!  Then I feel atrocious in a few hours of stop and go traffic, finally start feeling better, then get a tire blowout on the interstate and barely made it back last night…  What a range of emotions!  Anyway, long story short, I'm whiny, not feeling great, and the worst of all – didn't watch as much hoops as I wanted to this weekend.  #RealLifeProblems!  So I apologize to the weekend commenters, getting to you guys now, and for a slightly shorter Monday Daily Notes that's out later than usual.  But we've got a shortened Thanksgiving week to preview anyway!  Oh yeah, I guess I'll stick with the usual daily notes format and tie this into fantasy – this article title could work for Nikola Jokic too!  Went nuts on the Spurs last Wednesday for a breakout, but then played 18 starting minutes worth of feeling sick, getting a flat tire, and losing an important box when moving Friday against the Suns.  Mike Malone even called out his guys!  "Lunch will not be served today due to lack of hustle!"  But then Jock Itch looked like a different player against the Warriors, going 11/11/2/2/1 in 27 minutes, while also helping us as a realtor and finding our house, helping the Panthers get to 10-0, and saving several stranded puppies in a well.  He's a 20 year old on a young team, he's going to go through a lot of ups and downs, but I say he's worth a look even in 12ers.  If you don't have anyone good to drop, I wouldn't do anything rash though.  He's at 19% owned in Yahoo and snatched up in all my RCLs, but might be worth a look on your leagues' wires.  Here's what else went down over the weekend in fantasy hoops action, plus The 7 Ahead for Week 5:
Please, blog, may I have some more?