The season is here, the season is here! Get out your favorite throwback NBA jersey and your fantasy stat-calculating abacuses (abaci?!), because fantasy basketball starts tonight! If you could pick any throwback jersey, just for aesthetic sake, which jersey would you go with? For me, gimme those old school Nugs jerseys!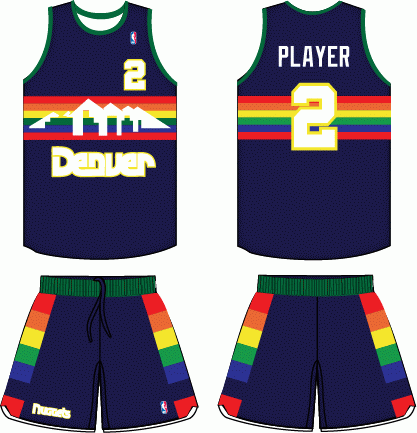 Doesn't beat that right there! It's so 80s it makes me want to watch Stranger Things for the 3rd time!
On the docket tonight, we have the Knicks going to Cleveland with the Cavs getting their rings, Utah going to Portland to battle it out in the Northwest, and then the best game of the night – the Spurs going to Golden State and beating the Warriors on the road to send Dubs fans into a panic! I'm planning on staying up all night to watch that game, so if I'm a little cranky tomorrow morning, it's probably because the Spurs lost and I'm dehydrated after drinking 3 pots of coffee…
We're stoked for another huge season at Razzball, and looking forward to our biggest season yet! If you missed our scheduling preview post for Razzball Basketball's 2016-17 content, you can check it out here, and be sure to welcome in our new staff with as many comments as you can muster. Not unlike the Knicks, we have a Super Team assembled for 2016-17! Let's get this ish going!
Here's a few notes for the games tonight, along with a few final thoughts from the preseason (a lot of injury notes we just discussed on the Pod this morning, so be sure to give a listen!):
Please, blog, may I have some more?